What will happen when you lock a bunch of hackers, entrepreneurs, and mentors into a room for two full weekends, give them powerful tools, dangle a valuable prize, and ask them to come up with an idea for an industrial IoT product? This was an experiment masterminded by my dear friend from college days, Tahir Hussain, who heads a tech accelerator – Collide Village in the Dallas metroplex. And, it was executed just recently.
On a fall afternoon last year, Tahir told me about his hackathon idea and asked me to provide mentorship as well as to sponsor Zenseio IoT hardware for the event. He was lining up the leading IoT companies as partners and successful local businessmen/entrepreneurs as mentors. It sounded like an interesting idea, so I jumped on it without hesitation.
The time commitment for everyone involved was significant. Participants, mentors, and organizers had to sacrifice their two full weekends. This attracted only the most driven, hardcore participants and filtered out just the curious ones. Still, over 120 participants signed up at the "Collidathon" and great majority survived to the finish line.
Lots of ideas flowed freely, and teams quickly formed around the most promising ones. The ideas were rough diamonds in disguise that needed to be shaped, polished, and validated.
Participants eagerly started working on business plans and prototypes. The IoT tools that were available for prototyping were Zenseio IoT devices, STMicroelectronics dev kits, Intel Edison dev kit, Senet LoRaWAN network, Microsoft Azure Analytics, and Ericsson Blockchain.
I was happy to see that the majority of teams picked Zenseio LoRa devices and it all went went very smoothly. In no time, everyone signed up for Senet account, configured Zenseio devices, and was streaming live sensor data to the cloud – Microsoft Azure or myDevices Cayenne. Many teams went way beyond expectations and started modifying hardware and firmware to add their own custom sensors.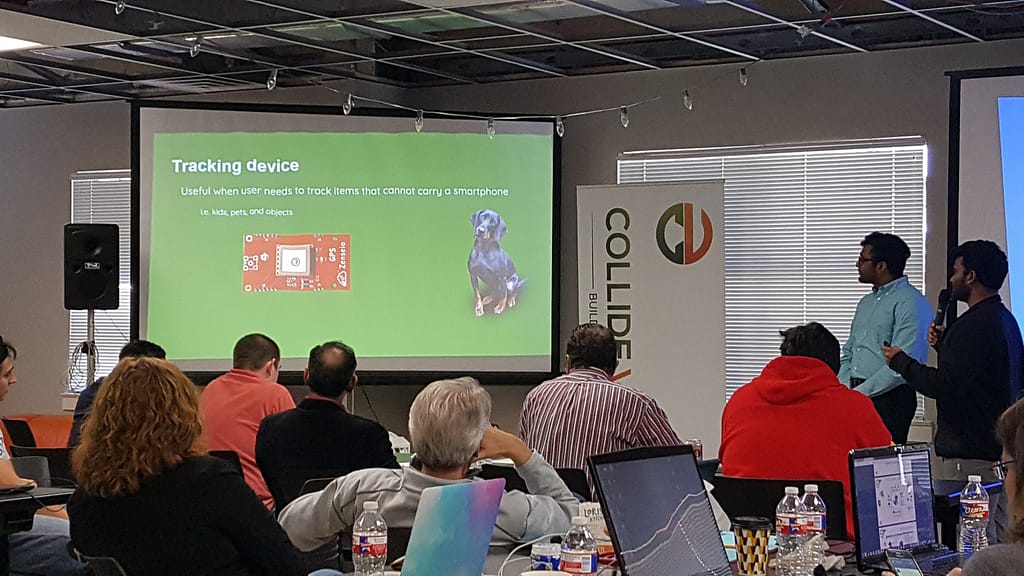 What has traditionally been hard about hardware was actually the easiest step here. This afforded the aspiring entrepreneurs more time to focus on the core product concepts, business and application development. As some applications were using GPS for localization or asset tracking, they were able to immediately run outdoor pilots and to remotely collect reliable data with the Zenseio devices, without dangling wires as typical with Arduino and other prototyping dev kits.
At the end, the rough ideas were turned into actionable business plans and demonstrated with the functional full end-to-end prototypes. It was amazing to see what was accomplished in such a short time. And, the IoT applications that were championed strived to make the world a better place. Some examples using Zenseio devices:
Using environmental sensors to learn about daily patterns of elderly folks living alone and to provide immediate notification to caregivers in case of unexpected events or emergencies
Turn the trash in "smart" commercial dumpsters into monetized "gold", using sensors and blockchain
Gamify recycling and proper trash disposal into "smart" bins to make the planet greener
Provide easy localization guidance for emergency responders to quickly find victims in case of emergency
The Collidathon turned out to be a success. While it was a close race, three teams won cash and an invitation to the Collide Village incubation program, totaling $20K.
For me, personally, I gained a few friends and valuable connections, and I was glad to see that Zenseio devices made very easy and quick for entrepreneurs to prototype and pilot their IoT ideas. There is nothing more inspiring than a complex IoT ecosystem of products and participants working harmoniously to address human challenges and striving to make the world a better place.
And, by the way, for fun, we also celebrated the Chinese New Year of Rooster on Saturday night at the annual "Different Approaches" party hosted by Mike and Quyen Courtney, featuring a live rooster 🙂